Saurabh Malik
Tribune News Service
Chandigarh, April 25, 2019
HC upholds death sentence in 15-yr-old case
Worshipping with their eyes closed on the banks of Bhakra canal on June 3, 2004, Kulwant Singh, his wife and two minor children were pushed into the water by a relative, Khushwinder Singh of Fatehgarh Sahib, who had taken them there on the pretext of seeking blessings from a "baba".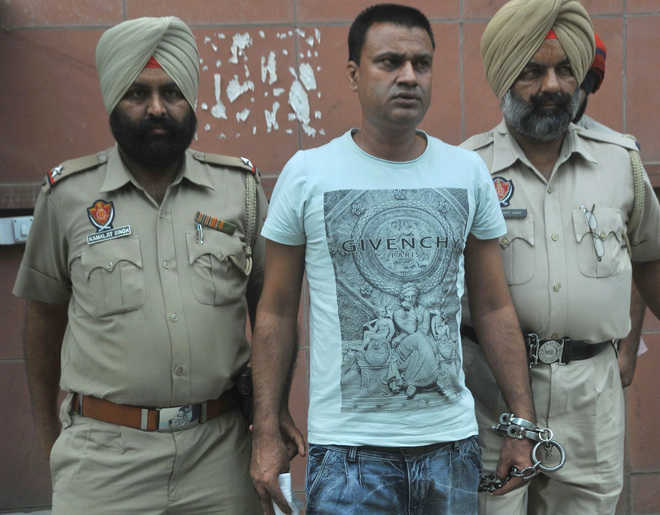 Convict Khushwinder Singh in custody. tribune photo
Fifteen years on, a Punjab and Haryana High Court Division Bench of Justices Rajiv Sharma and Gurvinder Singh Gill today upheld the death sentence for Khushwinder, pronounced by the Mohali CBI special judge.With the CBI probe hitting a dead-end, the case had to be shut in September 2009. But a letter from the Punjab ADGP (Crime) to the CBI in July 2012 led to its reopening.
The ADGP said Khushwinder, an accused in a similar case of killing of a family where a female member survived, had during investigation confessed to his involvement in pushing to death Kulwant and his family.Speaking for the Bench, Justice Sharma said the motive attributed was that Khushwinder wanted to grab Kulwant's money from a recently sold property. After developing close ties with Kulwant, who was under debt, Khushwinder persuaded the victim family to accompany him to the crime spot and pushed them into the water. While the bodies of Kulwant and his daughter Ramandeep Kaur were recovered, those of his wife Harjit Kaur and son Arvinder Singh could never be found.
Four members of a family killed (left to right) – Kulwant Singh, Harjeet Kaur, Ramandeep Kaur and Arvinder Singh
"It has been proven on record that the appellant had planned the murder of Kulwant and his family. He pushed them into the Bhakra canal. He has played with the sentiments of gullible family… The case falls within the ambit of rarest of rare cases. The appellant has killed four persons, including two minor children. There is no occasion for us to interfere with the well-reasoned judgment and order of the trial court," asserted Justice Sharma.
Case files
Khushwinder can still move the Supreme Court, file a mercy petition before the President, and challenge the rejection of that as well
In August 2004, Dhananjoy Chatterjee was sent to the gallows for killing and raping a minor in West Bengal
All executions since then have been in terror cases — be it in Parliament attack case (Afzal Guru), Mumbai 26/11 case (Ajmal Kasab) or 1993-Mumbai blasts (Yakub Memon)